The Department  works in tandem with radiation oncology and is  responsible for Treatment Planning of all cancer patients in Radiation Oncology.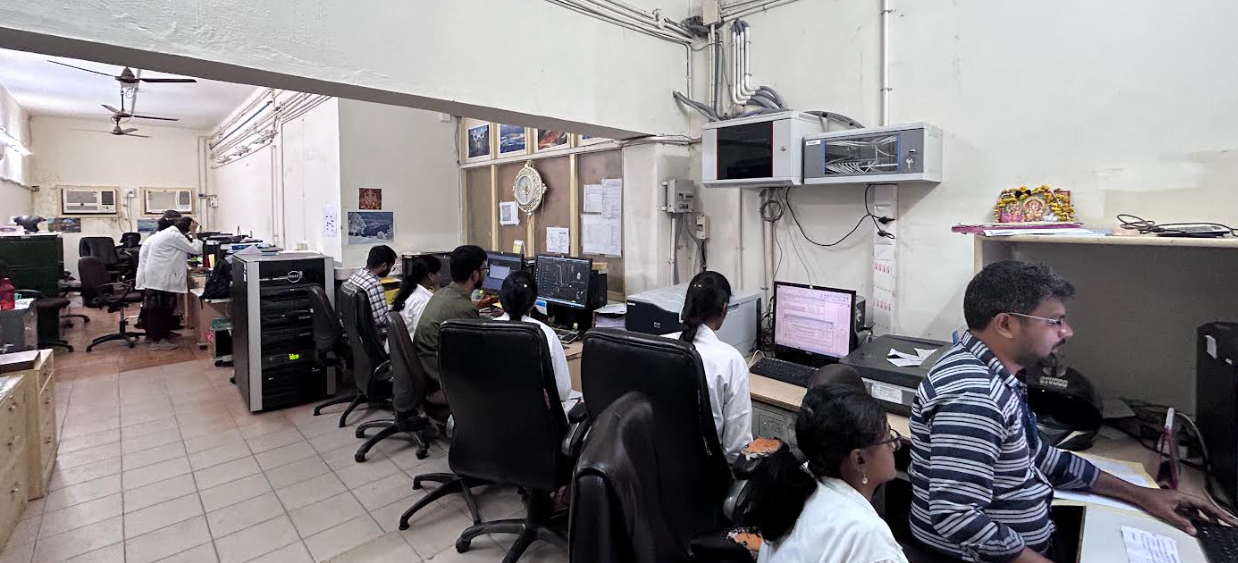 Welcome to our department's journey, which began in November 1957 under the leadership of
Dr. K.S. Chandrasekar, Ph.D. Serving as the Head of the Department, Dr. Chandrasekar laid the foundation for our academic legacy.
In August 1958, we welcomed Dr. A.V. Lakshmanan, Ph.D., who assumed the role of Head of the Department in April 1962. His dedication and leadership shaped the department's growth until his retirement in August 2006. He retired as Director (Administration), and continued  as an Adviser till 2022.
In April 1965,
Dr. I.S. Balakrishnan, PhD, joined the institute and played a pivotal role until his retirement in April 2007, culminating in the position of Chairman, Physical Sciences.
In July 1993,
Dr. N. Vivekanandan, Ph.D., became a part of our academic family. Since May 2007, he has been serving as the Professor and Head of the Department, leading us with passion and expertise.
Our journey is marked by the dedication and contributions of these visionary leaders, shaping the department into a hub of academic excellence. Join us as we continue to strive for innovation, research, and educational advancement.
Our dedicated team is responsible for developing treatment plans for all cancer patients, employing a range of cutting-edge techniques.
Our routine work covers a spectrum of methodologies, including conventional, conformal, Intensity Modulated Radiation Therapy (IMRT), RapidArc treatment, and Stereotactic Body Radiation Therapy (SBRT) planning. We are also equipped to provide High Dose Rate (HDR) Brachytherapy planning, ensuring a holistic approach to cancer care.
Notably, the Cancer Institute achieved a significant milestone by being the first center in the country to install and upgrade to RapidArc Technology on January 22, 2009. This technological advancement underscores our commitment to staying at the forefront of innovative cancer treatment.
Within our state-of-the-art facilities, we have five linear accelerators (linacs), one Telecobalt machine, two HDR units, and one simulator. To support our planning processes, we have six ECLIPSE Treatment Planning systems and one MONACO Planning System, reflecting our dedication to providing the best possible care through advanced technology.
In 1981, we proudly pioneered the M. Sc., (Medical Physics) course in South Asia in collaboration with Anna University, establishing a legacy of excellence. This postgraduate degree course is offered at the university and has seen over 460 graduates, who are now making significant contributions in India and internationally.
Our commitment to education continues, with 30 new students enrolling in the M.Sc., (Medical Physics) course each year. As a testament to our comprehensive approach to medical education, we are actively involved in teaching other programs such as M.Sc., Radiotherapy Technology, BSc RT Technology, B.Sc., Radiology Technology, and B.Sc., Nuclear Medicine Technology.
Under the guidance of Dr. N. Vivekanandan, we've successfully mentored eleven scholars who have obtained their degrees, contributing to the ever-evolving field of study.
Our current research endeavors showcase our commitment to pushing boundaries. One ongoing study involves the fabrication and testing of a 3D printed insert compatible with the QUASAR phantom. This innovative approach is geared towards gafchromic film-based 4D dosimetry, with the potential for routine clinical application.
In addition, we are actively engaged in the development of a QA tracker using Python software. Specifically tailored to the needs of the Cancer Institute, this tool is designed to model and track Quality Assurance tests for all teletherapy equipment. This initiative aims to streamline and enhance the analysis of crucial quality assurance data, ensuring the highest standards in cancer treatment.
Please feel welcome to contact our friendly reception staff with any general or medical enquiry call us.
Monday – Friday :  8.00 am – 7:00 pm
Saturday : 9.00 am – 8.00 pm
Sunday : 10.00 am – 9.00 pm
Monday – Sunday : 7.00 am – 11.00 am
Monday – Sunday : 4.00 PM – 6.00 PM
1."Volumetric modulated arc radiotherapy for esophageal cancer" NagarajanVivekanandan, Padmanaban Sriram, M.Sc., S. A. Syam Kumar, M.Sc.,Narayanan Bhuvaneswari, M.Sc., and Kamalakannan Saranya, M.Sc. Medical Dosimetry 37 (2012) 108-113
2."Characterization of responses of 2d array seven29 detector and its combined use with octavius phantom for the patient-specific quality assurance in rapidarc treatment delivery" S. A. Syamkumar, M.Sc., Sriram Padmanabhan, M.Sc., Prabakar Sukumar, M.Sc., and Vivekanandan Nagarajan, Ph.D. Medical Dosimetry 37 (2012) 53-60.
3."Treatment planning and dosimetric comparison study on two different volumetric modulated arc therapy delivery techniques "S.A. Syam Kumara,Raghavendra Holla b, Prabakar Sukumara, Sriram Padmanabanan, Nagarajan Vivekanandan. Reports of practical oncology and radiotherapy, 2012 Aug 9;18(2):87-94.
4."Exit fluence analysis using portal dosimetry in volumetric modulated arc therapy", Prabakar Sukumar,Sriram Padmanaban, Dhanabalan Rajasekaran, Muniyappan Kannan, Vivekanandan Nagarajan. Reports of practical oncology and Radiotherapy 1 7 ( 2 0 1 2 ) 324-331
5."In-house spread sheet based monitor unit verification program for volumetric modulated arc therapy"Prakash Jeevanandam*, Dhanabalan Rajasekaran, Prabakar Sukumar, Vivekanandan Nagarajan Physica Medica 30 (2014) 509 – 512
Please feel free to contact our friendly staff with any medical enquiry.
Health Essentials
News & Articles